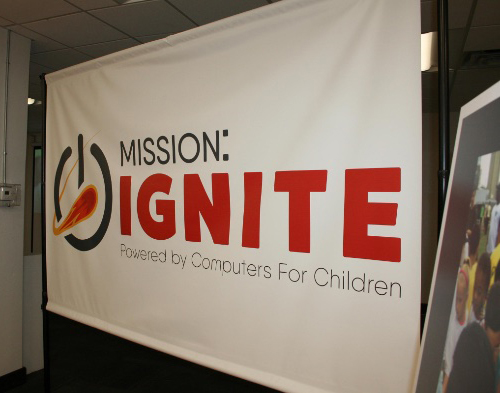 EVENT DETAILS
Your organization's old computers can make a huge difference to allow children from Buffalo to learn remotely this school year, and we need your help to make it happen.
The FBI Buffalo Citizens Academy Alumni Association (FBIBCAAA) is issuing a call to action to help school children in these uncertain times.  We are proud to announce a partnership with Mission: Ignite Powered by Computers For Children, Inc. to help get computers in the hands of children who do not have access to laptops at home.
Mission: Ignite is in need of essentially everything with a goal to obtain 1000 units prior to the beginning of the school year. Here is what they need the most:
Dell E6320, Dell E6420, Lenovo X230, Lenovo X240, or over 80 or so units of other models
Processor: i5 or more
Memory: 4GB RAM DDR3 or more, no RAM (but DDR3config) is OK as well
Webcams and other peripherals such as mice and keyboards.
Classes are about to start, many remotely or as hybrids of classroom and at-home teaching due to the coronavirus and thousands of students are left in the dark without proper resources to learn.  We are asking you to check with your employers and various networking and business groups to collect laptops that may be outdated for business needs but could be upgraded for learning purposes.  If so, please email [email protected] or call 716-823-7248 x570 by August 28.  Mission: Ignite will collect the equipment.  Please let them know that you have been directed to them by the FBI Buffalo Citizens Academy Alumni Association.
We are fortunate to have the first nonprofit agency in New York State that provides upgraded computers and training to members of high need populations.  Mission: Ignite Powered by Computers For Children has upgraded hundreds of laptops and devices in an effort to close the technology divide for people in homes with over four children, homes for seniors seeking social engagement options, nonprofits without the funding who are working to address COVID 19 needs, as well as others.  The executive director, Christine Carr-Barmasse is also an FBI Citizens Academy graduate.
In advance we thank you for your concerns and efforts on behalf of all who will benefit from this program. Working together we can and will emerge from these difficult times stronger than ever. Contributions will be acknowledged and should you have additional questions please feel free to contact [email protected] or call 716-310-2078.
Here is a recent story aired by WGRZ on the need for equipment to enable digital remote learning.